Warm Your Drink and Wirelessly Charge Your Phone
This special offer could disappear at any time.
Take advantage of this 50% OFF deal today!

Super Quality
InHeat is manufactured using
premium components for
superior craftsmanship and
excellent durability.

No-Hassle Returns
If you're not happy with your
InHeat for any reason, feel
free to return it within 30 days
of purchase for a full refund.

No-Hassle Returns
InHeat ships direct to the
address of your choice for
convenient shopping and gift-
giving.

Your Mornings Could Be So Much Better, But You'll Need InHeat First
We all have our morning routines. And these routines are important for starting our day off right. With Inheat, you'll be able to enjoy that piping cup of coffee or tea right down to the last drop, and then you can drop your cellphone on it to make sure it's 100% charged before heading out the door!
This ultra-handy drink warmer and wireless phone charger is a must-have for any desktop or work area. Perfect for at home use, and even better for use at the office, InHeat is the ideal desk accessory you'll use all day long, every day. Charge your Qi-enabled device quickly and keep your drink piping hot, all without breaking the bank.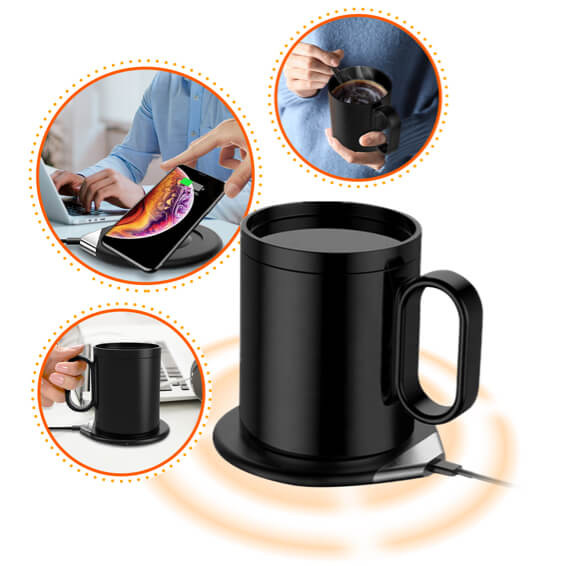 InHeat is the Newest Gadget
You Didn't Know You
Couldn't Live Without
It's a Drink Warmer
No one likes those last few sips of your morning coffee when the heat has long since expired. If we wanted to have a cold brew we would have made one! InHeat ensures that your beverage will stay the perfect temperature all the way to the last drop for complete enjoyment.
It's a Phone Charger
These days our phones are like extensions of our own bodies. We're always on them! And you don't need to be told just how inconvenient a dead cellphone battery is. InHeat conveniently uses Qi charging to keep your phone totally juiced so it's always ready for when you need it most.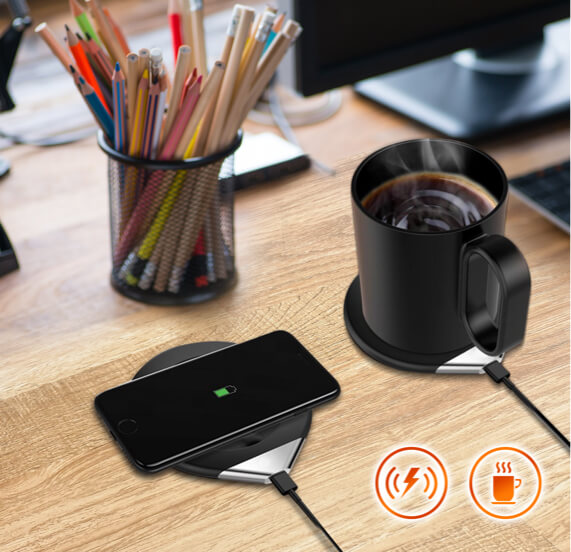 Start Your Day the Right Way
Stop forcing yourself through those last few lukewarm gulps of your morning coffee! With InHeat you'll enjoy every last drop and still be able to charge your smartphone! InHeat is the perfect addition to your desk space. It's no wonder it's the must-have gadget for 2020.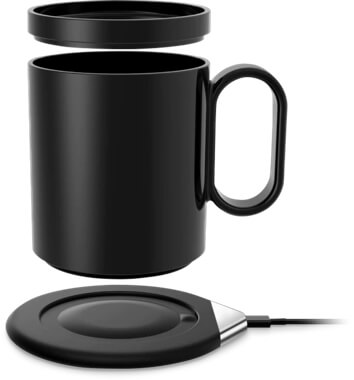 What Our Customers Have to Say
About InHeat
I didn't know what I was missing out on
I used to think that drink warmers were kind of lame. Like, how long does it take you to drink your coffee?! But I was at a friends house and used his 'just for kicks'. I didn't realize the difference consistent temperature makes for good coffee. I was amazed and became a believer. I got my own and I use it all the time now. It also has a phone charger, which works great, but I use it exclusively for my morning coffee.
Kris K. – Nashville, TN
Sharon J. – Omaha, NE
Works great with no fuss. I use mine at least 3 hours every day - I'm a notoriously slow drinker - and it shows no signs of performance issues so far. It's a nice-looking design as well. I also like how I can charge my phone on it when I'm not warming a drink. No complaints here.
Tonya C. – Bangor, ME
Exactly what I needed at my desk at work. I was getting teased when it was delivered but now everyone wants one. Keeps my coffee the perfect temp for me. I haven't been throwing out old coffee anymore. I finish my cups now and really enjoy it! I think I'm even more productive because I'm not making myself a coffee constantly. Just need one at home now!
George D. – El Paso, TX
I hate lukewarm coffee and this InHeat was just what the doctor ordered. On top of keeping my coffee hot it charges my phone too! Two in one functionality that I use every single day. Really enjoying my InHeat and I've been telling everyone I can about how awesome it is.
Special Offer on Now!
Order Today for a Time-Limited Discount
With InHeat You'll Always Be Assured of Having a Hot Drink and a Charged Smartphone
InHeat is the multi-functional gadget that will keep your favorite beverage nice and toasty hot, and it will charge your phone, too! And right now, InHeat is offering a discount that you don't want to miss out on. To secure your order, make sure you act quickly. Thousands of these units are being sold and stock is flying off the shelves. Everyone is experiencing just how great InHeat really is. And you should experience it, too.
This special offer could disappear at any time.
Take advantage of this 50% OFF deal today!